Tersus GNSS Showcases New Products - Oscar Trek, MVP and LUKA at InterGEO 2022
---
InterGEO 2022 was held in Essen, Germany, on October 18-20. As the largest conference trade fair of geodesy, GEO information and land management, InterGEO connects experts from all over the world to discuss and exchange views on cutting-edge GIS & GNSS technologies. As a leading GNSS solution provider, Tersus GNSS Inc. ("TERSUS") participated in the event as the Stage Sponsor and showcased a comprehensive portfolio at the INTERGEO 2022.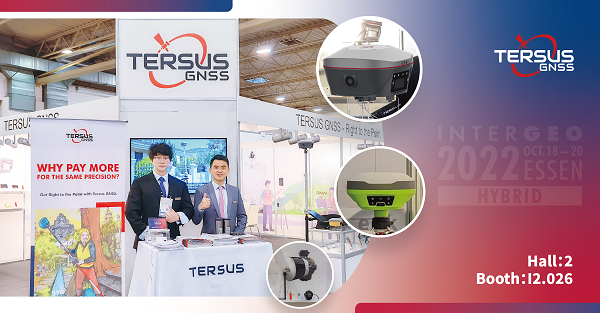 Devoted to R&D and fully independent of technology, Tersus has a well-established reputation for its affordable, centimeter-level-precision GNSS solutions. This year, Tersus showcased a prosperous product line, including Oscar Trek - the latest smart GNSS receiver which integrated GNSS + INS + PPP + Camera, Tersus MetaVerse Painter - a multi-payload mobile mapping system, LUKA GNSS receiver - a small and light RTK system.



With 8 years of efforts on expanding the dealer network worldwide, Tersus products are favoured and highly praised by users in over 90 countries and regions. More and more global institutions and authorities have recognized Tersus, and its products have been applied to more markets and industries.




InterGEO provides a professional environment and an ideal opportunity for Tersus to present to the whole geospatial industry. We are pleased to meet friends from all over the world. See you next time!



---
About Tersus GNSS Inc.
Tersus GNSS is a leading Global Navigation Satellite System (GNSS) solution provider. Our offerings and services aim to make centimeter-precision positioning affordable for large-scale deployment.
Founded in 2014, we have been pioneers in design and development GNSS RTK products to better cater to the industry's needs. Our portfolios cover GNSS RTK & PPK OEM boards, David GNSS Receiver, Oscar GNSS Receiver, MatrixRTK [GNSS CORS Systems] and inertial navigation systems.
Designed for ease of use, our solutions support multi-GNSS and provide flexible interfaces for a variety of applications, such as UAVs, surveying, mapping, precision agriculture, lane-level navigation, construction engineering, and deformation monitoring.
Sales inquiry: sales@tersus-gnss.com
Technical support: support@tersus-gnss.com